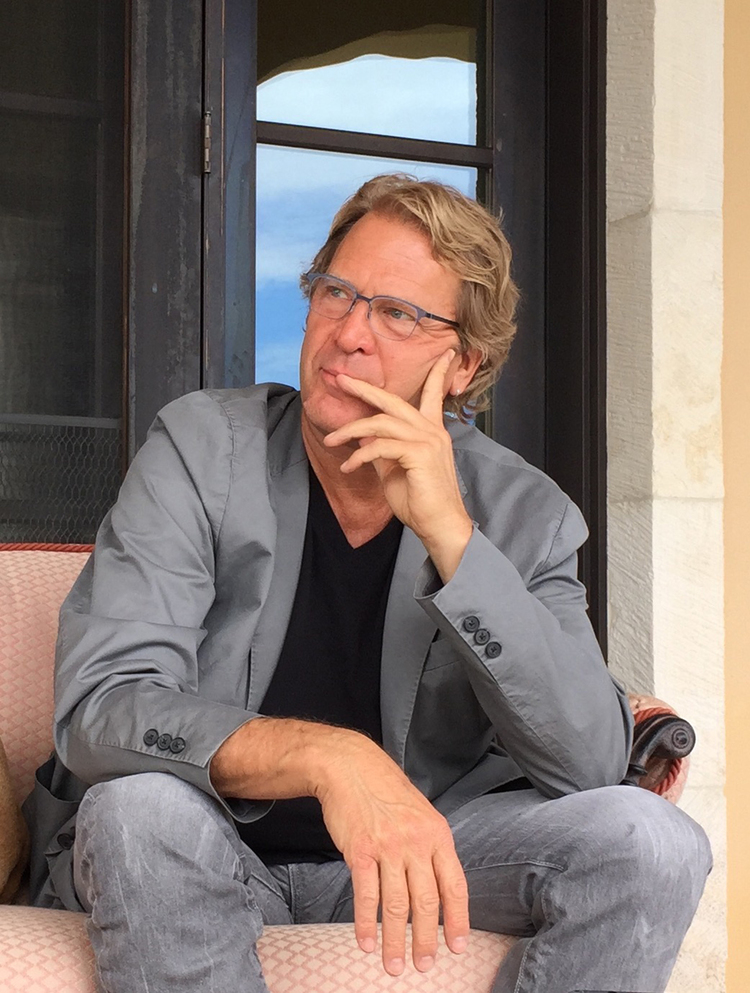 Choosing Risk, Awe and Wonder—with Artist Stephen Auger
"The insecure way is the secure way."
— Joseph Campbell
[soundcloud url="https://api.soundcloud.com/tracks/262980211″ params="auto_play=false&hide_related=false&show_comments=true&show_user=true&show_reposts=false&visual=true" width="100%" height="450″ iframe="true" /]
Might it be possible that by our very use of the word creative, in our personal search to even 'be creative,' we undermine our desire for generative living and discovery?
Acclaimed fine artist Stephen Auger, of Santa Fe, NM , argues just this early on in our
interview, and the first of my efforts at creating a podcast. "I'd going to attempt to eliminate the word from this conversation," he says. "I think it is a word that is presumptuous. I think it is misleading…. And that it is unnecessary. The first thing the word creativity does is…it creates a self-consciousness."
He goes on to speak of how that self-consciousness divides us from ourselves and the world. It leads to a kind of disassociated and disembodied living, he asserts.
Thus begins our dive into the realms of living deeply, dedicated to a life nurturing curiosity and awe and wonder as an artistic practice field. For Stephen this is a life inseparable from risk and passion and a professional dedication to listening and sensing and discovering the further realms of human perceiving and being.
Stephen is a man in love with light. "I have an empathy for light," he says.

He also has a degree in the neuroscience of perception and trained at the Center of Advanced Visual Studies at MIT. "His paintings and sculptures are in private, corporate and museums collections internationally, including Yale University, Andrew Lloyd Weber, Malcolm Forbes, CBS Corporation, Panasonic Corp. and The Carnegie Institute."
Auger speaks with intellectual rigor, personal passion and depth when turned loose on the topic of twilight and the unconscious sensing capacities constantly informing the human system of it relational orientation in the world. He moves our conversation toward closure as he intimately reveals "my deepest affinity:"
"To me the muse is the cosmos. I am just constantly completely blown away by things I experience or see…. And it is always saying, 'You're part of me. You're part of me.'"
"That's my deepest affinity, is with Nature. It is where I'm always…embraced. Not that nature can't be scary but…we all have to die sometime…. I think it's important for me to see myself in this incredible infinite cycle."
Some of the territories covered in this wide-ranging interview include:
The practice of art;
Dangers inherent in the word and idea of 'creativity';
The role, challenge and necessity of risk taking in the artistic life;
Cultural norms that interfere with following a life of one's own;
Curiosity, awe, wonder, imagination, vulnerability, stillness and silence as rituals and practice fields for enhancing the aesthetics of sensing, for cultivating kinesthetic intelligence;
Cultivating a tolerance for insecurity and the unknown;
The willingness to not be productive and the value of stasis;
The seduction of security;
How our very biological being is a mirror of the universe;
The challenges of surrendering to one's calling;
Navigating fear and frozen artistic expression through ritual and practice;
Coming to frozenness with love and acceptance vs. as predator;
The role of nature as inspiration and emulation for his work and life;
Two modes of perception, and 'wonder' as a sensory experience;
The transformational nature of voluntarily opening to the senses.
It was a pleasure and honor to share in the interview, Stephen. And with this, I wish you a belated Happy Birthday, my friend!
NOTE: I invite you to Vitalize your generative life with a four-day Nature emersion program co-sponsored with the Georgia O'Keeffe Museum: Inspired by Nature: A Journey Into Creativity (Septermber 9-13).  We'll explore her home with a private tour and spend time at the White Place where she painted.  Basing our soft camping adventure out of a private retreat center, The Ojo, we'll hike to newly discovered petroglyphs and enjoy the spiritual work of cave artist, Ra Paulette at Origin at Rancho de San Juan.  An afternoon at the famed Ojo Caliente spa caps our journey.