How I came to Wild Resiliency
"Until the human is understood as a dimension of the earth, we have no secure basis for understanding any aspect of the human. We can understand the human only through the earth." — Thomas Berry, The Dream of the Earth
I found myself, in the mid 1990's, in one of the crux positions of my life. My

success in the world of business was beyond anything I imagined I might ever achieve. I worked with international clients of prestige on issues of leadership and executive development and organizational intelligence in support of change and transformation. I was only a small time consultant, in the scheme of things, but I was making more money than I ever thought possible and having fun; yet there was something missing for me in this work.
The personal rewards of the work were enormous. I found it deep and soulful, to work at the levels of identity and vision and mission and values with people, holding out such questions as, "Who am I?", and "What is my work in the world?" Yet I often woke in the dark of the night haunted by a feeling that I was also not getting the results of deep change and transformation that I believed our world required(s) of us.
I sometimes felt I was supporting an organization's spirit and capacity for creativity, only to watch the resulting resilience be applied toward efforts I considered lacking in reference for their larger impact in the world. I too often felt the newly released spirits of creativity and empowerment were ultimately used by a larger organism to bolster an economic and social system that was out of balance with the future world I wished to help birth.
"Am I supporting an accelerating pace of insensitive globalization, and so also supporting the destruction of the very world of nature I hold dear? Am I contributing to the economic and social injustices unintentionally fostered upon third world peoples by a privileged few?"
The people I worked with were good people, even great. They inspired me with their beauty. But I was haunted, so I committed to take a year out of my consulting practice and keep an old promise that I made to myself as a fourteen or fifteen year old suicidal runaway adolescent: that if I ever lived to a place where I could celebrate life, to where it somehow made sense to me, that I would track that journey and write about it. My youthful heroic dream was to share what I had learned—so others would perhaps not have to feel the pain I did.
In this soupy mix of keeping an old promise to a younger self, and of trying to gain perspective on the work of human change and transformation that I had been engaged in for some twenty years, I took that year, and more, out of my consulting practice to write a book: a memoir.
Ten years later now, and with three memoir manuscript book drafts scattered throughout my life, I am presently working on the book that is perhaps the one I originally dreamed of writing: Call of the Wild Resiliency Within is the book that could not be seen without my first going through the requisite processes of so much complexly intermingled birthing and dying, rebirthing and propagation, again and again.
I intuitively turned to the world of nature as I sought to plumb the depths of my professional disillusionment, and of my simultaneous attraction to the beauty of the work. And also as I attempted to track, through story, how I have come from a place of suicidal ideation, as early as the third grade, to where I was: to a place wherein, in my best moments, of celebrating life, of looking both out upon the world and in upon my soul with what Alan Moore calls "butterfly eyes;" i.e. "Seeing beauty and potentiality everywhere in the world." www.butterflyspirit.org
Like the Swiss psychiatrist, Carl Jung, who returned to a childhood love of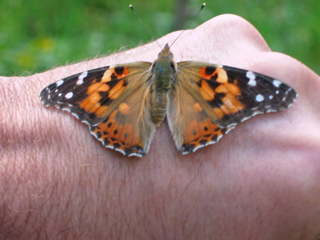 playing with rocks when he came to a difficult place in his own life, when he realized he did not consciously know the myths by which his life organized itself, I too fell back into doing what I loved to do as a child, into what I now think of as wild joy. I took the luxury of spending yet more time in Nature.
Commingled careers as a forest fire fighter with the US Forest Service, and as a wilderness therapist and guide and river runner, leading wilderness expeditions with clients as varied as youth-at-risk to transitioning millionaire entrepreneurs, native elders and corporate executives, gave me a professional grounding in 'the out of doors.' But now I took more time for myself to again wander aimlessly like a child through deserts and mountains, following faint game trails and rocky paths and rivers smooth and knuckle gripping white. So it was that an awareness dawned within. It grew within as I increasingly allowed the shedding and consuming and digesting and dying of the structures of who I thought I was, as I let go of the demands of proving myself in the world and as I let go of trying to be good enough.
The awareness that came upon me is this: resiliency in nature is the capacity to be loyal to one's deep nature.
It was a knowing: resiliency is innate to Life. Therefore, to enhance my own resilience was and is a matter of sourcing and accessing the deep Self within, the Breath-of-Life.
It is not and can never be Larry Glover who is wildly resilient; but the Life Force within me is innately so.
Thus Wild Resiliency, as a conceptual living systems and ecological model of
Wellness, Hardiness and Wholeness, informed also by the world's mythologies, resilience psychology and the Indigenous Sciences, grew within me as a gift. The gift I will share in this blog however, is a meme, a way of thinking and perceiving and being in the world, that grants access to greater creativity, choice, and response-ability. It is a way of strengthening the power of our own arrival in the world.
Wild Resiliency provides both the frame that I found previously missing in my work with organizations, and it helps me understand the journey of my own life and that of others; specifically, thinking in terms of wild resiliency places the concept of resilience within the frame and context of nature, where it rightly belongs, and it helps me frame how it is some thrive under 'stress' and adversity while others are consumed by the same.
larry glover