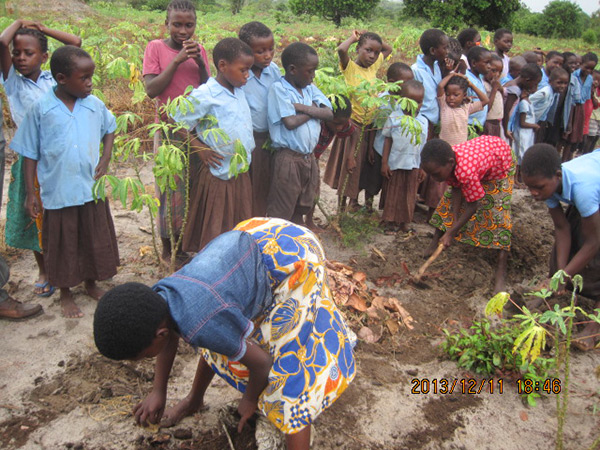 The Spirit and Soul of Sharing
Where there was scarcity of water and thirst
Now life giving water flows generously and freely
Where there was hunger
Now there is food's joys of fulfillment
Where there was darkness
Now there is security and children reading at night
Where there was lack of opportunity for learning
Now there is education and aspirations for more
Where there was aloneness and absence of father or of mother
Now there is love, healing and belonging
Where there was menstruation and teasing and shame
Now there is self-respect and hygiene
Where once there was economic despair
Now grow seeds of hope and self-sufficiency
Where Sun parched the Earth
Now grow trees for food and shade
Where children walked barefoot and empty handed
Now walk shoes with schoolbooks in hands
Where there was sorrow and crying
Now there is laughter and play
Where there was only I
Now there is We
On a recent Friends of Magarini Zoom Call, co-founder Emmanuel Karisa Baya shared the story of what it was like in the dry times before there was a water well at the Centre. Staff might have to travel twelve to twenty miles round to return with five gallon 'jerry cans' of water for the children. Thirsty children would then sit in small circles and pass around a 'glass' of water, each taking only a small sip at a time to ensure everyone received their share of the life giving liquid.
A bore hole was drilled in 2017 through generous contributions from you and folks like you also choosing to risk caring and sharing in the passing around of this Water of Life. Now, in the recent drought, the scarcity of water and regional failed wells and pumps have people traveling 2o miles to the Centre to return home with five or ten gallons of life's sweet clear liquid. This is a great example of one of the many differences that the care of Friends of Magarini are making in this rural area of Kenya.
But what is this spirit and soul of sharing and caring? Where does it come from? What are its rewards, risks and boundaries? I've found myself reflecting into these questions after hearing Emmanuel relate this moving story of the children so carefully sharing this scarce resource with each other.
We'll be hosting another Friends of Magarini Zoom call this Sunday, April 11, 2021, 10AM MT. Following our usual Sharing of the News of the many exciting developments at the Centre, I'll be asking co-founders Emmanuel and his wife, Jescar Mbuche, to share their reflections to the seed of this core question.
I host these monthly calls as a service of the Wild Resiliency Network in partnership with the Magarini Children Centre and Organic Demonstration Farm. A search on the blog here will bring up numerous posts for further exploration and more information on the Centre and it's work, including posts on how Emmanuel and I met and my own trip to the Centre in 2017 and his visit here in 2019.
Inspirations and strategies for meeting our challenging times are one of our most valuable resources and the Centre, with its philosophical and practical rooting into the soil as source of well-being is a continuing inspiration in my life. This is why I serve of the Board of Directors and why we offer these calls.
We are so making this up this unfolding story at the Centre as we go. The demands and challenges are enormous and so is the human spirit that is meeting them from the knowledge and wisdom that sprouts out of living as One with the soil and each other. But is this not how we all must learn to live in these uncertain times? And is this not the time for nurturing this wild resiliency which will help us move beyond bouncing back to a world that does not serve the regenerative capacities of Earth and our future?
Please join our email list or personal message me on Facebook for a link to our next Friends of Magarini Call. We'll post the link there… and if you miss the live calls you can catch them on our Youtube pages.