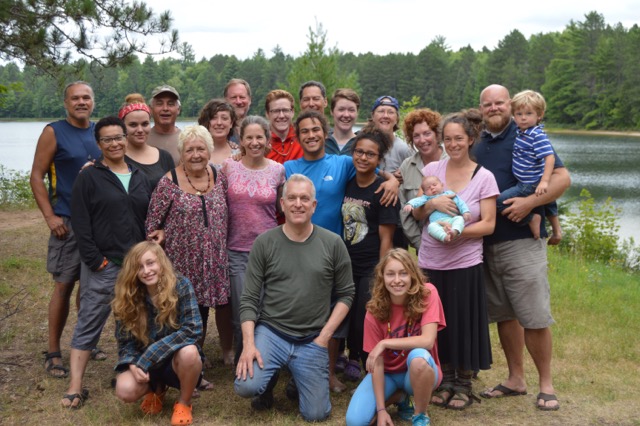 Two Questions That Matter
The Face in the Mirror
Seven days have I not looked.
No mirror has graced this face of stubble.

And not until the airport men's room
will I gaze to see how I appear to others,
though I confess
to a life haunted by such concerns.
And so my driven need and hunger
to share breathing with the trees
and rocks and moss and granddaddy
long-legged spiders and occasional mosquitoes
as bed mates under my tarp
and a primeval looking-glass forest lake
for gazing at the rising mist of dawn
while a lone Loon calls
the same eerie song
unchanged by two million years
of humankind peering
into the mirror of naked sky stars
to answer two questions that matter:
Who am I? and
What do I look like anyway,
in the eyes of all my relations?
I am freshly returned from a moving and inspiring Family Journey adventure in the UP
of Michigan, hosted in partnership with friends and colleagues from
leadfeather.org
. It is to all the staff and participants from this learning journey adventure that I extend a rich "Thank You," to. And it is to you the above reflections, written while being graciously chauffeured to the airport by the Slover-Linett family, are dedicated.
Our shared time in the beautiful natural surroundings, combined with intentions of renewing and exploring ourselves through play and reflection, story telling and drumming and talking circle and late night fire conversations and canoeing the Au Sable river and hiking in the Pictured Rocks National Park and copper bowl making with stone tools and a sweat lodge… all contributed to a deep experience of community and even an expanded sense of family. The love and fun flowed freely.
Indeed, it is through such intentional renewal time in nature that we can come to see more fully who we are and what it means even, to be human. And as we come to again see ourselves through the eyes of 'all our relations' on the Tree of Life, we will find ourselves coming home and discovering what a re-genesis of Life on Earth might be.
As
Gregory Bateson
put it:
"The major problems in the world are the result of the difference between how
nature works and the way people think."
And Thomas Berry here:
"Until the human is understood as a dimension of the earth, we have no secure basis for understanding any aspect of the human. We can understand the human only through the earth." — The Cosmology of Peace
When is the last time you looked in the mirror and saw there the same wonder and mystery and beauty you see in a sunset or in a butterfly alighting on a sunflower? You are that!
Ask yourself the two questions that matter.
Larry Glover aspires to discover what it is to be truly human in a world that is woven of
mystery and consciousness and fire and water and air and earth and spirit and soul too. He struggled from an early age with a madness that would destroy himself, which he came to recognize as a cultural story of separation and unworthiness for life. Larry now leans into our shared love of nature to inspire and deepen what it is to truly love your self, through his writing, speaking, coaching, workshops and wilderness retreats. Learn more of how to engage with Larry at larryglover.com
NOTE: If you would like support in learning to see nature's beauty within, we still have space in the upcoming Soul Renewal Wilderness Retreat and in a Canyon de Chelly cultural immersion journey.