Watching this video will move and inspire you
Watching this video will move and inspire you
"The wind shapes the trees and the trees shape the wind," my new friend said to me as we sipped our coffee and ate breakfast. Emmanuel Karisa Baya and I were attending The Art and Science of Helping Self+World program, hosted by Amy and Arnold Mindell.
Emmanuel continued; "At the Magarini Children Center, in Kenya, we teach the children that if they take care of nature, nature will take care of them. We teach them how to farm organically and to love nature and so they learn to love themselves and each other too. We have about 150 children that we feed and educate."
"They are mostly orphans or children at risk, due to poverty and hunger. I lost my father and mother when I was young, about 6 years old, and I had to work on farms to have something to eat, for myself and my brothers and sisters. Then I had to work hard to be able to go to school too. I did not want to see these children go hungry like I did."
"So we educate them in how to take care of the land so they will always have something to eat. And we give them an education too so they will know how to live in this world and can take care of themselves and their families."
"Many people there now cut the trees so they can make and sell charcoal. It is the only way they know. But we are teaching the people how to farm organically and we are planting trees, because the wind shapes the trees and the trees shape the wind. They are one," Emmanuel says in closing.
A friend and colleague, Robyn Benson, DOM, recently said to me, "Every time I see you, Larry, I think about trees. Aspen trees." I doubt Robyn actually knew she could not have paid me a higher compliment since I seriously take Aspen trees to be soul medicine for our time and deliver retreats and programs around such. And from the moment I saw Emmanuel standing in the driveway of the cottage I was pulling into, his large welcoming smile and eyes unafraid of looking openly into mine, I knew I was meeting a brother.
It was as though each of our spirits smiled into the welcoming of another, whom we innately sensed also shared an intimate knowledge of our common rooting: Like the Aspen, the trees and the wind, we too are one.
Emmanuel and I dreamed that day of these videos. And now he and the Magarni Children Center are putting three new videos up on you-tube in an effort to spread the word of their work and of their need for financial support. As I write this, they have started to build a dormitory for the children, so they may have safe and secure places to sleep. They need the help of people like you to be able to complete this dormitory for young girls.
Future needs will include electricity and a well for water, which they currently harvest from the rains or must haul in at expense.
There are a multitude of places one can focus their attention on in today's world that strengthen our despair and sense of hopelessness, our sense of powerlessness. The tree planting and organic farmer and visionary Emmanuel Karisa Baya however, did not let a challenging childhood, of becoming an orphan at an early age, the physical hunger or challenges of walking long distances to get an education shut down the heart and spirit of compassion that now wells up within him.
It is this wildly resilient leadership of people like Emmanuel that give me hope for the future. And it is the practices and visions of a future of sustainable thrivability and human caring and loving, demonstrated by the Magarini Children Center, that point toward a future worth leaving to our children, a future we can create together. There, they are literally "redefining how people should live together."
You can support this global movement of redefining how people should live together by opening to the power of even little acts arising out of your own caring. You can consciously choose to move closer to that future of a more beautiful world now by opening your heart and sending care and love to someone you know in need. It's that simple.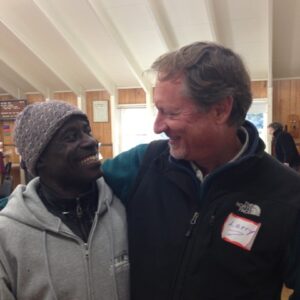 NOTE: View or Download the 2015 Annual Report for the Magarini Center here: magarini-annual-report-2015:
Larry Glover aspires to discover what it is to be truly human in a world that is woven of mystery and consciousness and fire and water and air and earth and spirit and soul too. He struggled from an early age with a madness that would destroy himself, which he came to recognize as a cultural story of separation and unworthiness for life. Larry now leans into our shared love of nature to inspire and deepen what it is to truly love your self, through writing, speaking, coaching, workshops and wilderness retreats. Learn more of how to engage with Larry at larryglover.com