On Going Where I Fear to Tread
OK, I've spent enough of my life orienting toward fear and perfectionism that occasionally I realize the only way through such predatory energy lies in the cauldron of their fires. To fail to make the leap into trusting Life… is to fail to trust the very life force within.
So with this post I'd like to introduce you to my very first video, Wild Resiliency! Life and learning are all about play, right?
And one of the things my dear and old-friend Roland (Skip) Curtis and I might stand a bit more play and practice with is a video camera. But hey, you invite an old friend for a hike and bring along and a new video camera…it's hard to say what or even who you might walk out of the woods with, or if you can even recognize them anymore or not.
I'm think I'm growing fond of the fuzzy face low res internet version we came home with however; the video is really not about me anyway. It's about a way of thinking and seeing the world that has changed my life, and that I believe can bring a bit more joy and vitality to us all… perhaps when we now most require them.
Also, you might as well know that one of the ways I pass the time while exploring game trails through a forest is by learning and reciting poetry. The repetition of the words and phrases and lines in an environment that invites an opening of the senses seems to let my system digest the poetry so that… the poems change me as I learn them. This one is from Lao Tzu and is one of my favorite 'wild resiliency poems'; I use him often to lean into the distinctions between wild resiliency and its domesticated cousin. The poem in the video is one of ten in a collection I call my Down By the River Poems.
I gathered them for a raft trip down the Colorado River on a Grand Canyon trip a year or so back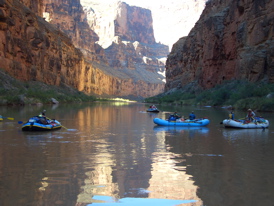 (Thanks Billy), and this poem was always a good reminder to me to 'be the water.' The adrenaline can start to flow right strong standing on the banks of those mighty liquid and often muddy currents, staring at the likes of Crystal and Granite and Horn and Hermit and Lava Falls rapids. And that ole chemical stew of fear-juice can just paralyze you if you let it; or it can energize you into being one with the River of Life, awakening and provoking the delight, excellence and power of presence: showing up.
It's GOOD to feel ALIVE!
Just—b-r-e-a-t-h-i-n-g—is a downright pleasurable experience, if you can show up for the breath.
So, Oh Yeah. I'm scared to post this video. I feel like I'm standing on the cliff up above Lava Falls throwing a stick into the bubble line to better perceive the currents in the River of Life. Hope you enjoy the audio , if not the video
OK, here's my best throw of a stick…as a gift to us all, and here's a deep and grateful exhale. Then I'm throwing another stick, my second video: Aspens: Forbidden Knowledge and Ancient Wisdom. I like to see where my fears and desires are leading me