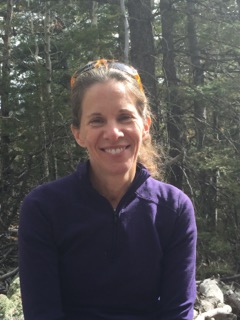 Creating Ourselves, Creating Joy
This is a guest post from my partner in creativity and

learning and adventure, Cheryl Slover-Linett. Her original blog post can be found here.

Until recently I felt I wasn't a terribly creative person. Somehow, the message I got as a kid was that being creative was the pinnacle of being human, and it just seemed that I got the short end of the stick. One of my earliest memories is of "cheating" on a 6-year old birthday party activity that involved drawing a rabbit with our eyes closed – I was already stressed out about not being artistic enough! In college, I fell in love with (and later married) a music major, who also is an amazing writer, and I tended to let him be the "creative" side of our partnership.
On a Soul Renewal journey a few years ago, however, one of the participants said something that has made me rethink what creativity is. She said the most creative act any of us can do is to look at something in a new way. It seems basic – almost too simple – but when I really fully change the lens I'm using, it "creates" a new reality, perspective or story. As I've put it into practice, it's become one of the most powerful tools I have when I need to shift something in my life.
Around the same time, I started to actively look for other aspects of creativity. In my mind, creative = artistic, and since I didn't see that I had much artistic talent (as I defined it, at least), I had never really looked at other sides of it. But what about creating a company…and then recreating it over time? Or creating wilderness journeys? Or creating two children?
And so, I've come to think of myself as more creative these days, but I know I've barely scratched the surface in terms of exploring what creativity is – and how it can
influence our lives. That's a big part of why Larry Glover and I "created" our spring journey this year, "Inspired by Nature: A Journey into Creativity," co-hosted with the Georgia O'Keeffe Museum. It runs from September 9-13 and will be held in landscapes O'Keeffe loved so much. Click here or email me to learn more: cheryl@leadfeather.org.